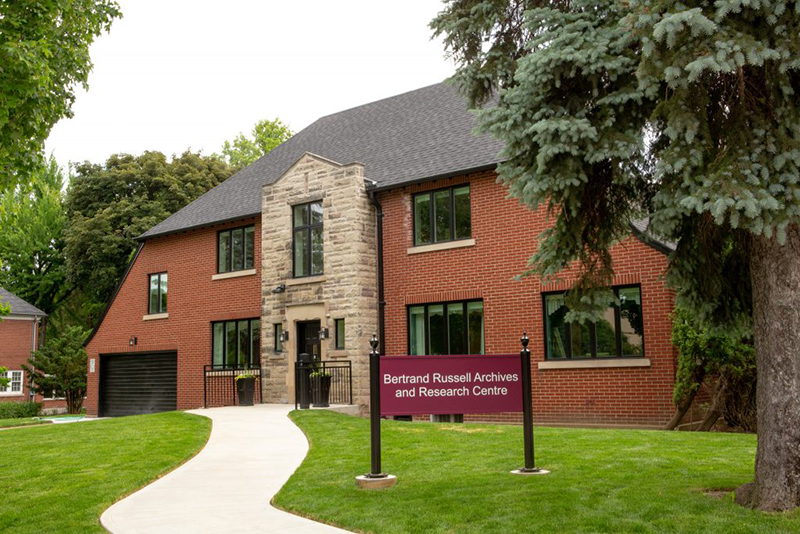 The Bertrand Russell Research Centre
The Bertrand Russell Research Centre at McMaster University is the world's foremost institute conducting work on Bertrand Russell. The McMaster University Library remains responsible for running the Archives and for the care, preservation and augmentation of the Russell collection, while the Centre, as part of the Faculty of Humanities, takes responsibility for the publication of Russell material and for fostering Russell scholarship. The Centre is focused on two ongoing projects, the Collected Papers and the Collected Letters, and publishes Russell: the Journal of Bertrand Russell Studies (in publication continuously since 1971) semi-annually. The creation of the Bertrand Russell Research Centre in 2000 gave all three enterprises a permanent home within McMaster's Faculty of Humanities.
When Russell's papers came to McMaster in the late 1960s (a fascinating and dramatic story in itself), it was inevitable that the university would become the main centre for research on Russell's life and work. The collection remains by far the largest available on Russell anywhere. Scores of books and hundreds of articles have been published using material from the Bertrand Russell Archives.
The official opening of the Centre took place on 16 November 2000 with Russell's biographer Ray Monk giving a public lecture, "The Continuing Importance of Bertrand Russell", in McMaster University's Convocation Hall. The opening coincided with a major exhibition of Russell material at the McMaster Museum of Art. The Director of the Bertrand Russell Research Centre from its establishment in 2000 until his retirement in 2018 was McMaster philosophy professor Nicholas Griffin. The current director, also of the philosophy department, is Alexander Klein.
Information Box Group
Carl Spadoni
Former Director of Archives and Research Collections, McMaster University Library